Wound Care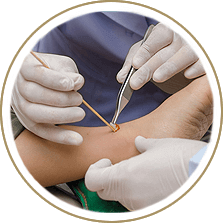 Wounds on the feet and ankles can happen to anyone, but some types of wounds demand special attention. Podiatry, Inc., has a team of physicians ready to assist with a variety of health issues relating to wound management. Timely treatment is crucial in preventing more serious problems from occurring.
Trauma Wounds
A trauma wound is a break in the skin due to an injury. These types of issues can be minor, involving a small cut or scrape. They can also be serious, as in deep gashes, punctures, burns, or open fractures with bone protruding. Any time a break in the skin occurs, infection is a potential risk. Because of this risk, it is vital that patients with trauma wounds to the foot or feet see a podiatrist for wound management. Cleansing the area, removing any foreign objects, and suturing the skin will be typical treatments. Regular cleansing and monitoring for infection will be crucial while the wound heals.
Venous Wounds
When veins stop effectively carrying fluids back to the heart, the fluids become trapped in the lower legs and feet. Excessive fluids can cause the outermost layer skin to separate from the underlying tissues. When this occurs, the skin becomes fragile, and wounds often develop. If fluids begin leaking out of ulcers, close monitoring by a podiatrist is crucial to prevent complications. Treatment for venous wounds often include compression therapy, increased walking, and elevating the legs to eliminate the extra fluids but will vary based on the individual needs of a patients seeking venous wound treatment. Podiatry Inc., also offers special bandaging that facilitates healing by removing drainage.
Diabetic Foot Ulcers
Patients with diabetes often experience problems with their feet and need diabetic foot ulcer treatment. Because of problems with their nerves, diabetic patients can experience a lack of sensation on the skin, and injuries or irritations that would normally cause discomfort will go unnoticed, causing wounds to develop. Circulation problems can cause these wounds to become serious, possibly leading to permanent tissue damage. The American Diabetes Association recommends that diabetics monitor their blood sugar carefully, pay close attention to footwear, and have regular foot exams by a podiatrist to catch problems early. When problems do occur, we offer comprehensive care for wounds caused by injury, infected wounds, foot problems caused by poor circulation, and calluses.
Arterial Wounds
Arterial wounds occur when main arteries in the legs block blood flow to the feet. People who are overweight, who have high blood pressure and cholesterol, who are diabetic, or who smoke have an elevated risk for arterial wounds. The lack of circulation can cause permanent tissue damage, wounds, and gangrene. Exams by a podiatrist can help prevent and monitor serious issues.
Pressure Wounds
People who are bedridden, such as geriatric patients, may experience pressure sores on their feet where the heels press against the mattress. If pressure sores occur, our podiatrists will develop treatment that focuses on avoiding infection and promoting healing.
Make An Appointment With Podiatry Inc. Today
Great feet are not a privilege; they are a right. Our four convenient locations across Northeast Ohio allow us ample opportunity to assist patients with a wide range of foot, ankle and lower leg issues. In most cases, we can get you in within 24 hours. Whether you are suffering from wounds or other foot or ankle conditions, our team of certified doctors at Podiatry Inc. can help. Call us today at (216) 245-1290 or click the "Request Appointment" tab at the top right to schedule an appointment with us. Our friendly and knowledgeable staff is here to assist you.