Plantar Warts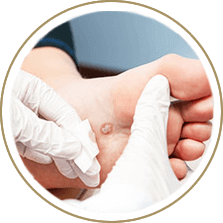 If you notice small bumps around the heel or weight-bearing areas of your feet, you may have developed plantar warts. When the HPV virus enters the skin through an opening, such as a small cut or scrape, plantar warts can form and often cause discomfort. Some indicators that you have plantar warts include feeling pain in the soles of the feet when standing or walking and the formation of small fleshy growths, sometimes including a tiny black dot in the center of the bump.
To best prevent getting plantar warts, it's advised to keep your hands and feet clean and wash them regularly. It's also important to ensure you wear appropriate footwear in public areas such as swimming pools, locker rooms, and communal showers. Because plantar warts are contagious, it's especially important for those with a weaker immune system to make sure they take the above precautions. If you believe you've developed plantar warts and are experiencing severe pain, swelling, redness, or bleeding, it's advised to seek professional care.
For more information about plantar warts, we recommend you consult with a podiatrist for a proper diagnosis and advised treatment plan.
Make An Appointment With Podiatry Inc. Today
Great feet are not a privilege; they are a right. Our four convenient locations across Northeast Ohio allow us ample opportunity to assist patients with a wide range of foot, ankle and lower leg issues. In most cases, we can get you in within 24 hours. Whether you are suffering from plantar warts or other foot or ankle conditions, our team of certified doctors at Podiatry Inc. can help. Call us today at (216) 245-1290 or click the "Request Appointment" tab at the top right to schedule an appointment with us. Our friendly and knowledgeable staff is here to assist you.