MLS Laser Therapy
Laser Pain Therapy in Northeast Ohio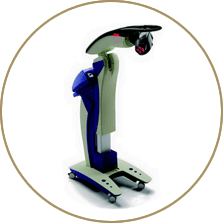 Patients with foot and ankle pain can seek relief at Podiatry, Inc. in the Cleveland, Ohio area. We use the revolutionary M6 Robotic Laser for in-office pain treatment. It's a noninvasive, economical and efficient alternative to medications and injections. Plus, it often reduces the need for surgery. Laser therapy is an appealing option for many patients. To experience the results for yourself, schedule an appointment today.
Immediate Ankle And Foot Pain Relief
Whether patients are dealing with acute or chronic pain, the M6 Robotic MLS Laser has proven effective. As patients lie back and relax, a board-certified podiatrist will position the laser above the pain site. The laser will then transfer its light energy into the affected cells to stimulate a healing response.
An added benefit to the M6 is its multi-target functioning. This allows it to treat a wide area and reach more tissues for instantaneous foot and ankle pain relief. After just a few minutes, the treatment is over and patients can usually resume their normal activities.
Broad Array Of Applications
If you're suffering from foot pain, consult your podiatrist to see if MLS M6 Robotic Laser pain therapy is right for you. Given its wide range of applications, the laser is a preferred choice for treating several different conditions. Patients walk in with severe foot pain, discomfort and inflammation, and are able to walk out of the office with minimal to no pain.
At Podiatry, Inc., laser pain therapy can be used for the following conditions affecting the foot and/or ankle:
Soft tissue injuries
Muscle strains and tears
Sore muscles and joints
Degenerative joint conditions
Neurological pain
Chronic, non-healing wounds
General pain
Musculoskeletal disorders
Pre- and post-surgical treatment
Inflammation reduction
Tendon and ligament injuries
Whether you recently suffered an injury or you've been dealing with foot pain for years without success, come to Podiatry, Inc. to try M6 Robotic Laser pain therapy.
MLS M6 Laser
Laser therapy has been known to help a lot with dealing with your pain. The M6 Robotic Laser is revolutionizing the way we treat pain in our offices. This laser is intended to treat acute and chronic pain. It is used to treat painful edema and will allow us to treat pain without medications or injections and reduce the need for surgery. It is not just economical but also highly efficient and easy to carry. We can't wait to share this exciting new technology with our patients.
Make An Appointment With Podiatry Inc. Today
Great feet are not a privilege; they are a right. Our four convenient locations across Northeast Ohio allow us ample opportunity to assist patients with a wide range of foot, ankle and lower leg issues. In most cases, we can get you in within 24 hours. Whether you need MLS Laser Therapy or other services, our team of certified doctors at Podiatry Inc. can help. Call us today at (216) 245-1290 or click the "Request Appointment" tab at the top right to schedule an appointment with us. Our friendly and knowledgeable staff is here to assist you.