Geriatric Foot Care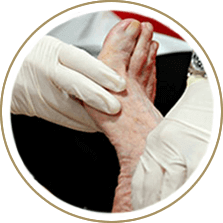 Healthy feet provide seniors with independence and stability, allowing them to mall walk, explore gardens, get a late-night snack from the kitchen or serve as an usher at church. Regular family podiatric care from Podiatry Inc. of Beachwood, OH, can help keep senior feet in tip-top shape and catch any concerns early for proper treatment.
Foot And Toenail Care
It can be challenging to see toenails properly and to reach down and cut them evenly. A visit to our office in Beachwood, OH, quickly solves that challenge, resulting in toenails that are not only safely cut but done with skill so they look and feel good. For diabetics, this treatment also provides peace of mind, knowing that toenail issues likely won't lead to further problems.
Blisters
Skin issues such as blisters are an opportunity to let us take care of your feet and avoid potential infection if the skin is broken. Sometimes people don't notice that the blister has formed or that it has drained, and the wound can be vulnerable to dirt and contamination.
Infections
Cuts, scrapes, broken blisters, punctures and sores of unknown origin can all lead to mild or serious infections. Don't wait — if you notice broken skin, redness, discolored nails or worsening conditions such as pain, a warm sensation, or draining, get right in to see us.
Cracked Skin, Corns
Let us take care of your feet when you want to make them look and feel better. We'll do a great job and check them for any concerns while you're here.
Diabetic Foot Care
If you're diabetic, let us take care of your feet and help you preserve your overall health and mobility. We can teach you proper home foot care and quickly tend to any foot issues that may arise for you. The reduced circulation that diabetics experience in their legs and feet can make it harder for your body to respond to cuts, scrapes, ingrown toenails and infection, so let us take proper care of your emerging foot problems.
Make An Appointment With Podiatry Inc. Today
Great feet are not a privilege; they are a right. Our four convenient locations across Northeast Ohio allow us ample opportunity to assist patients with a wide range of foot, ankle and lower leg issues. In most cases, we can get you in within 24 hours. Our team of certified doctors at Podiatry Inc. can help. Call us today at (216) 245-1290 or click the "Request Appointment" tab at the top right to schedule an appointment with us. Our friendly and knowledgeable staff is here to assist you.