Fungal Toenails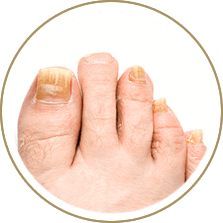 An infection of the foot, ankle, or leg can come in many shapes and sizes. Some can be very simple while others may be more serious. We have doctors specifically trained to help diagnose and properly treat all types of infections.
Common Foot & Ankle Infections
Foot infections can cause sensitivity and pain, impacting our ability to enjoy basic or daily activities, but many infections are relatively easy to treat after a proper diagnosis. Some of the most common are:
Athlete's Foot – Also known as tinea pedis, this ailment is a fungal infection of the skin that thrives in damp, warm conditions. Symptoms of athlete's foot include dry, itchy, red skin on the bottom of the foot.
Ingrown Toenails – This common condition develops when the skin on the side of the nail grows over the edges of the nail or when the nail grows into the skin. Not only are ingrown toenails quite painful, but they can also become infected if not treated. Symptoms of an ingrown toenail include redness and soreness surrounding the toenail.
Toenail Fungus – While this condition is rare in children, it affects about half of the population over 70. It occurs when microscopic fungi enter the toenail through an injury and then spread due to the warmth and moisture trapped in socks and shoes. Symptoms of toenail fungus include thickening, yellowing, crumbling of the nail, as well as spots or streaks on the nail and even nail loss.
Psoriasis – This is a non-contagious skin condition in which thickened, red, and patchy areas develop on the skin. The cause is unknown but may be linked to immune system imbalances.
Diabetic Ulcers – Patients with diabetes are predisposed to developing ulcers on the bottom of the feet due to the peripheral neuropathy, or lack of sensation, that accompanies the disease. Common symptoms of diabetic ulcers include red sores on the bottom of the feet that exhibit signs of drainage.
Foot Infection Prevention
Taking special care of your feet can help you prevent many painful foot infections. Avoid fungal foot infections by always wearing sandals in any public shower, choosing breathable footwear that doesn't trap moisture, and washing the feet every day with soap and water.
For patients with diabetes, it is important to check your feet daily for any signs of ulcers, looking for sores, blisters, redness, cuts, scratches, or other injuries. Use moisturizers to avoid skin dryness and cracking, and wash your feet regularly with soap and water, including the spaces between the toes.
Treatment at Podiatry Inc.
At Podiatry Inc., all of the podiatrists on our staff are board-certified and highly experienced in the care of foot infections of all kinds. Each of our foot doctors genuinely cares about our patients' wellness and strives to communicate courteously and effectively during each visit. Since our office is larger than most, we have the resources to maintain state-of-the-art equipment in-house, such as our 3-D imaging technology, which helps us better serve our valued patients.
Make An Appointment With Podiatry Inc. Today
Great feet are not a privilege; they are a right. Our four convenient locations across Northeast Ohio allow us ample opportunity to assist patients with a wide range of foot, ankle and lower leg issues. In most cases, we can get you in within 24 hours. Whether you are suffering from fungal toenails or other foot or ankle conditions, our team of certified doctors at Podiatry Inc. can help. Call us today at (216) 245-1290 or click the "Request Appointment" tab at the top right to schedule an appointment with us. Our friendly and knowledgeable staff is here to assist you.