Footmaxx Metascan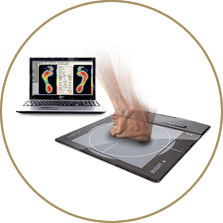 How the Footmaxx Metascan promotes accurate diagnoses for ankle and foot injuries.
Ankle and foot injuries are excruciating, and can wreak havoc with your gait. The lack of information on the severity and extent of your injuries may also lead to an inaccurate diagnosis, and incorrect treatment. Say goodbye to pain with the Footmaxx Metascan. This scan enables your podiatrist to scan abnormalities and analyze your gait, so you can rectify it with custom-made orthotics. Here's what you need to know.
The Importance of Custom-Made Orthotics
Did you know that incorrect, or non-custom orthotics can lead to pain and discomfort, or serious injury? These may also exacerbate pre-existing conditions such as flat feet, back pain, Achilles tendon pain, heel pain and high arch feet.
Custom-made orthotics are imperative as they prevent deformities, and assist with stabilizing your ankle joints. The right orthotics could also improve the bio-mechanical function of your feet, as it promotes proper positioning.
It alleviates pain, as it reduces pressure, and stress from the problem areas in your ankles and feet. It may improve your gait, as it soothes lower back pain, hip, and knee pain. Custom orthotics absorbs shock from the ground, which rectifies your gait.
How The FootMaxx Works
This innovative machine utilizes superior propriety software to help doctors evaluate their patients more accurately for bio-mechanical challenges, balance, gait, and foot, hip, and knee injuries.
The scan analyzes your foot while it's moving, via three kind of scans at 150 images per second. It also ascertains whether there are any changes in your symmetry, movements and whether your alignment is correct.
The Footmaxx targets your eight primary foot areas, namely your hallux, lateral heel, your five metatarsal heads and medial heel. This method isolates each area, and traces it when your gait is in its stance phase.
The scan can also be conducted while you run, and scans your posture to determine whether you have center of mass control. The Footmaxx Metascan comprises a pressure sensitivity feature, which determines your sensitivity for various gaits. Your podiatrist could also choose static scanning to decipher how you distribute pressure bilaterally.
Your podiatrist will receive a custom report with an in-depth analysis of your gait. You may also use this report as a permanent record for insurance purposes. The Footmaxx Metascan also suggests prescriptions for the orthotics that suits you best.
Contact our podiatrists today for your scan, detailed analysis report, and customized orthotic suggestions.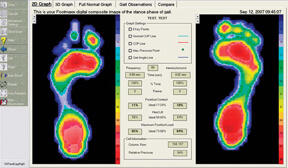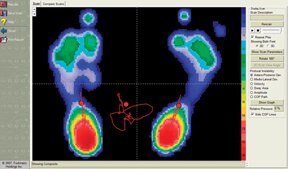 Make An Appointment With Podiatry Inc. Today
Great feet are not a privilege; they are a right. Our four convenient locations across Northeast Ohio allow us ample opportunity to assist patients with a wide range of foot, ankle and lower leg issues. In most cases, we can get you in within 24 hours. Whether you need the Footmaxx Metascan or other services, our team of certified doctors at Podiatry Inc. can help. Call us today at (216) 245-1290 or click the "Request Appointment" tab at the top right to schedule an appointment with us. Our friendly and knowledgeable staff is here to assist you.