Foot Orthotics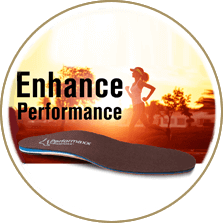 Ongoing foot pain can often be debilitating for those suffering from the discomfort. In order to help alleviate the pain, a podiatrist may suggest you wear custom orthotics. Custom orthotics fit perfectly for your foot and are made specifically for your type of foot condition. For some, orthotics make performing day to day activities easier and less painful.
Orthotics are especially useful for those with foot pain and those who may have fallen arches. Orthotics may help properly reposition the structures of the foot, easing the pressure and rebalancing the distribution of weight on the feet. Those with arthritic feet or those experiencing pain due to plantar fasciitis may find relief with orthotics, as they also tend to find issues with arch complications. Orthotics are a great way to give your feet extra support, which can come in handy for those who tend to stand or work on their feet for the majority of the day. The next type of patient who made aid in the use of orthotics are those with diabetes. It's more likely for those with diabetes to develop corns and calluses. When this occurs, the friction of the corn or callus against your footwear can be extremely uncomfortable and painful. Orthotics, in this instance, can be useful in reducing the pressure placed upon the affected areas.
If you'd like more information about the type of orthotics that is best for your condition, we suggest you speak with a podiatrist for a professional recommendation.
Make An Appointment With Podiatry Inc. Today
Great feet are not a privilege; they are a right. Our four convenient locations across Northeast Ohio allow us ample opportunity to assist patients with a wide range of foot, ankle and lower leg issues. In most cases, we can get you in within 24 hours. Whether you need foot orthotics or other services, our team of certified doctors at Podiatry Inc. can help. Call us today at (216) 245-1290 or click the "Request Appointment" tab at the top right to schedule an appointment with us. Our friendly and knowledgeable staff is here to assist you.