Foot and Ankle Surgery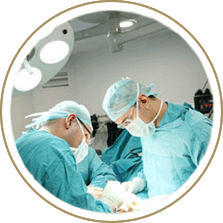 When you injure your foot or ankle, it can take you out of commission for weeks or months. At Podiatry Inc., our aim is to get you back on your feet as quickly as possible. We are dedicated to foot and ankle health and our patient's overall well-being.
Foot and Ankle Injuries That Require Surgery
Surgery is considered the last option when other treatment methods have failed to address foot or ankle trauma. A surgical treatment can be as minor as bunion removal or as major as ankle reconstruction. Many fractures and instances of chronic spraining require corrective procedures. Broken ankles, broken heels, talus fractures, lisfranc fractures, and other types of trauma that cause bones and bone fragments to fall out of place require surgery to put these bone pieces back in the right spot for proper healing. Without the right treatment, bones may never heal, leaving constant pain and pressure on the injured area.
Preparation for Surgery
One of the best ways to prepare for surgery is to be knowledgeable. Discuss all of your options with your doctor, and be sure to follow any pre-op instructions. You podiatrist should inform you of any medications you have to stop taking before surgery. Also, be knowledgeable about alcohol and nicotine use, and know when you must stop eating and drinking prior to surgery. The day of the procedure, have all of your belongings organized. Arrive at the hospital on time and with someone who can drive you home if your procedure is out-patient.
Our Surgical Expertise
At Podiatry Inc., our foot and ankle surgeons are all certified by the American Board of Foot and Ankle Surgery. Whether you have ankle pain, bunions, hammertoes, Achilles injuries, or any other condition of the foot or ankle, our doctors are qualified to help. In fact, we specialize in the treatment of all foot and ankle issues and are trained to relieve these conditions, helping you get back on your feet quickly. Also, when it comes to trauma care and surgery, you do not have to go to the ER. Visit us instead. With our experienced surgeons and state-of-the-art equipment, we can treat everything from ankle and heel fractures all the way down to toe fractures.
Recovering After Surgery
Post-surgical recovery depends greatly on how well patients follow the instructions of their doctor. Staying off of the surgically repaired area is imperative to proper healing. Also, eating a healthy diet, doing doctor-specified exercises, and keeping the area dry will all aid in the recovery process. Specialized footwear may help the healing process.
Make An Appointment With Podiatry Inc. Today
Great feet are not a privilege; they are a right. Our four convenient locations across Northeast Ohio allow us ample opportunity to assist patients with a wide range of foot, ankle and lower leg issues. In most cases, we can get you in within 24 hours. Whether you need foot and ankle surgery or other services, our team of certified doctors at Podiatry Inc. can help. Call us today at (216) 245-1290 or click the "Request Appointment" tab at the top right to schedule an appointment with us. Our friendly and knowledgeable staff is here to assist you.