Foot and Ankle Injuries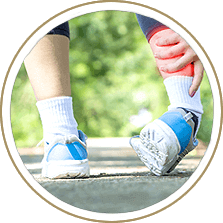 Foot and ankle injuries can be some of the most delicate to deal with. Don't waste time in an ER for a long wait and expensive facility fees. Come to the team at Podiatry Inc. for the best in foot trauma care and surgery. Whether you're worried you may have a fracture or have simply twisted your ankle, we are here to help.
Common Foot and Ankle Injuries
Foot and ankle trauma is categorized by the damaged area, whether it's the bone, ligaments, or tendons. Fractures and breaks refer to damage to one or more of the bones in the ankle or foot, while a sprain describes damage to the ligaments—the elastic bands of connective tissue that hold the bones in place. Strains occur when the tendons, which stabilize and protect the ankle, sustain damage. Common tendon injuries include inflammation from overuse or trauma, also known as tendonitis. Tendons can also rupture or become dislocated.
Signs and Symptoms of Foot and Ankle Injuries
Sprains and fractures induce similar symptoms, and it can sometimes be difficult to determine which injury has occurred without a medical diagnosis. Symptoms include sudden and severe pain, bruising, swelling, or the inability to walk or bear weight on the injured foot. A sprain may also feel stiff while a fracture may be tender to the touch at the site of the injury. Symptoms of tendonitis include intermittent pain on the outside of the ankle, ankle instability or weakness, and a raised arch in the foot.
First Aid for Foot and Ankle Injuries
If you sustain a foot or ankle injury, treat it immediately with rest, ice, compression, and elevation. Rest your foot or ankle and keep weight off of it to prevent further damage. To reduce swelling, apply ice packs for 15 to 20 minutes within 48 hours of your injury. This can be repeated as needed with a 45-minute break in between sessions.
Compressing the injured foot or ankle with a bandage will help keep it supported and immobile, but be careful not to wrap it so tightly that you cut off circulation. If your toes feel cold, lose sensation, or turn blue, the compression is too tight. Finally, keep the injured foot elevated above the heart to reduce pain and swelling. If discomfort continues, schedule an appointment with a doctor at Podiatry Inc. for a professional diagnosis and treatment.
Trauma Care and Treatment at Podiatry Inc.
It is important to have foot and ankle injuries evaluated by a doctor to ensure proper diagnosis and treatment. Injuries that don't heal properly can lead to chronic pain and instability. At Podiatry Inc., our facilities are equipped with state-of-the-art technologies such as our digital x-ray machines, which gives our board certified foot surgeons the ability to more accurately diagnose your injury and prescribe the proper treatment. We also keep crutches and braces in stock, so you don't have to wait to receive the support devices you need to heal. And our large roster of doctors allows us to treat you in a timely manner—there is no need to spend hours waiting in the ER.
Make An Appointment With Podiatry Inc. Today
Great feet are not a privilege; they are a right. Our four convenient locations across Northeast Ohio allow us ample opportunity to assist patients with a wide range of foot, ankle and lower leg issues. In most cases, we can get you in within 24 hours. Whether you are suffering from foot and ankle injuries or other conditions, our team of certified doctors at Podiatry Inc. can help. Call us today at (216) 245-1290 or click the "Request Appointment" tab at the top right to schedule an appointment with us. Our friendly and knowledgeable staff is here to assist you.