Diabetic Foot Care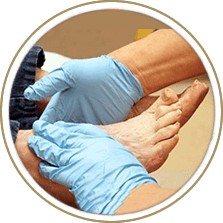 Diabetes can cause serious foot complications. If you've been diagnosed with Type I or Type II diabetes, it's important to monitor your feet — especially as you get older. The board-certified doctors and surgeons at Podiatry Inc. can help treat any current issues you're experiencing, as well as help prevent new ones from occurring. If you live in Beachwood, OH, become a patient today by calling (216) 245-1290.
How Diabetes Affects the Feet
The most common foot problem for diabetics is diabetic neuropathy (nerve damage). It can cause a tingling, burning or stinging sensation in the feet. The feet may also feel weak and painful. These symptoms can drastically affect a person's daily life.
Sometimes, neuropathy can also cause diabetics to lose feeling in their feet altogether. Because they can't feel it, they may not realize when they have an injury or infection.
In addition, diabetes also affects the blood flow to the feet. This makes it difficult for sores, wounds and infections to heal. Even a small cut or scrape needs to be carefully looked after to prevent it from getting worse.
Treating Diabetic Foot Complications
Diabetics are prone to developing skin changes as well. Some common issues they may face include:
Extreme dryness
Peeling, cracking feet
Infection
Calluses
Open sores
Our surgeons can correct foot deformities to help prevent future complications. The team at Podiatry Inc. uses a cutting-edge technology called Footmaxx Metascan to analyze diabetics' feet. The machine generates custom therapeutic orthotics for insoles and shoes. We can also shave down calluses to help prevent ulcers and infections from developing.
Without proper evaluation and treatment, diabetics are at risk for severe infection, where foot and/or leg amputation may be the only option. But just by being under the regular care of a podiatrist, the risk of amputation decreases by 80%.
Caring for Your Foot Health at Home
At Podiatry Inc., we'll also help educate you on how to care for your feet. It's important to manage your diabetes and maintain good overall health. We also recommend you…
Don't smoke
Check and wash your feet everyday
Always wear shoes and socks
Check the insides of your shoes before putting them on
Stay active
Make An Appointment With Podiatry Inc. Today
Great feet are not a privilege; they are a right. Our four convenient locations across Northeast Ohio allow us ample opportunity to assist patients with a wide range of foot, ankle and lower leg issues. In most cases, we can get you in within 24 hours. Whether you are in need of diabetic foot care or treatment for other foot or ankle conditions, our team of certified doctors at Podiatry Inc. can help. Call us today at (216) 245-1290 or click the "Request Appointment" tab at the top right to schedule an appointment with us. Our friendly and knowledgeable staff is here to assist you.