Bunions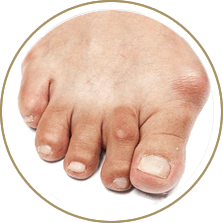 Bunions are caused by shifting of bones within the foot leading to a bony prominence just beneath the big toe on the joint. They may also be caused by the constant rubbing of tight shoes or may be hereditary. Foot stress or medical conditions like gout or rheumatoid arthritis can spur bunion growth.
Bunion Signs And Symptoms
If you have any of the following symptoms, you may have a bunion:
An unusual bulge the protrudes from the outside base of your big toe
Discomfort, discoloration and swelling surrounding the bottom joint of your big toe
Calluses or corns where your first two toes have been pushed together
A stiff or immobile big toe
Podiatric Foot Care For Bunions
Switching to supportive footwear and avoiding flimsy ballet shoes or thin flats can help minimize bunion symptoms. Always make sure your toes have enough room to move and flex as you walk, and use protective padding to cushion sore areas. Ice can be used to reduce swelling and inflammation. Custom orthotics are another excellent option. At Podiatry Inc., we use the FOOTMAXX Metascan to measure our patient's gait and get a look at any abnormalities. We then utilize the data collected to craft a custom orthotic uniquely suited to each patient's needs.
If those measures don't provide enough relief, your doctor may recommend bunion surgery. If you choose this route, your physician will surgically realign the underlying bone, soft tissue and nerves to ease discomfort and correct the abnormality.
Make An Appointment With Podiatry Inc. Today
Great feet are not a privilege; they are a right. Our four convenient locations across Northeast Ohio allow us ample opportunity to assist patients with a wide range of foot, ankle and lower leg issues. In most cases, we can get you in within 24 hours. Whether you are suffering from bunions or other foot or ankle conditions, our team of certified doctors at Podiatry Inc. can help. Call us today at (216) 245-1290 or click the "Request Appointment" tab at the top right to schedule an appointment with us. Our friendly and knowledgeable staff is here to assist you.