Athlete's Foot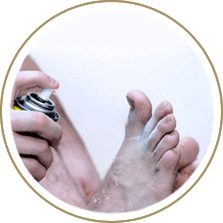 Athlete's foot is a fairly common, contagious condition that is caused by a fungal infection. The infection thrives in warm, moist environments, such as the inside of a shoe. It's very common for athlete's foot to develop in between the toes. Some key signs that you may be experiencing this condition include a burning, stinging, or itching sensation, as well as redness and flaking.
Athlete's foot may spread by direct skin to skin contact, as well as by indirect contact, such as walking barefoot on a surface where the fungus lies. Environments such as locker rooms and communal showers are popular areas where athlete's foot is known to spread. In order to better prevent yourself from catching athlete's foot, it's advised to take certain precautions. These precautions can include washing your feet often and drying them thoroughly, wearing clean cotton socks, washing your towels regularly, making sure you change your shoes and socks regularly, and avoiding walking around barefoot in public areas. It's also advised to refrain from sharing footwear and to take footwear off as soon as possible after exercising.
Because athlete's foot is best treated promptly, we recommend you consult with a podiatrist as soon as possible for a proper diagnosis and treatment plan.
Make An Appointment With Podiatry Inc. Today
Great feet are not a privilege; they are a right. Our four convenient locations across Northeast Ohio allow us ample opportunity to assist patients with a wide range of foot, ankle and lower leg issues. In most cases, we can get you in within 24 hours. Whether you are suffering from Athlete's foot or other foot or ankle conditions, our team of certified doctors at Podiatry Inc. can help. Call us today at (216) 245-1290 or click the "Request Appointment" tab at the top right to schedule an appointment with us. Our friendly and knowledgeable staff is here to assist you.