Achilles Tendon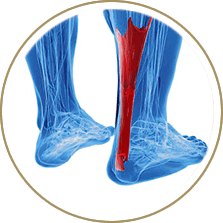 A condition that often results in serious heel pain is known as Achilles tendonitis. This condition may form when the Achilles tendon is damaged as a result of overuse. This particular injury can be very serious, as the Achilles tendon's main function is to connect the lower half of the calf muscles to the heel bone. If this tendon becomes damaged, it may result in difficulty walking and completing everyday tasks, as well as cause extreme discomfort and pain.
It's more common for athletes to experience Achilles tendon injuries, as they're more likely to be participating in activities that would call for repetitive movement, such as running or jogging. This kind of repetitive movement over time is likely to cause stress on the tendon. When athletes abruptly increase their performance level without properly training or warming up their bodies, they may also injure the Achilles tendon, which may lead to inflexibility in the calf muscles.
In order to prevent this kind of injury, it's suggested to perform stretches—particularly focused on the calf region—about one to three times a day to keep the area flexible. Focusing on building strength in your calves is also advised. If you believe you've injured your Achilles tendon, there are some actions you can take to help alleviate the discomfort. Icing and massaging the affected area may help to calm the pain, as well as practicing light stretches.
If you're having difficulty walking or icing the area does not alleviate the pain, it's highly advised that you speak with a podiatrist for professional care and an advised treatment plan.
Make An Appointment With Podiatry Inc. Today
Great feet are not a privilege; they are a right. Our four convenient locations across Northeast Ohio allow us ample opportunity to assist patients with a wide range of foot, ankle and lower leg issues. In most cases, we can get you in within 24 hours. Whether you are suffering from Achilles tendon injuries or other foot or ankle conditions, our team of certified doctors at Podiatry Inc. can help. Call us today at (216) 245-1290 or click the "Request Appointment" tab at the top right to schedule an appointment with us. Our friendly and knowledgeable staff is here to assist you.